WHAT'S IN THE 24K COLLOIDAL GOLD sample kit?
They say beauty comes from the inside, out.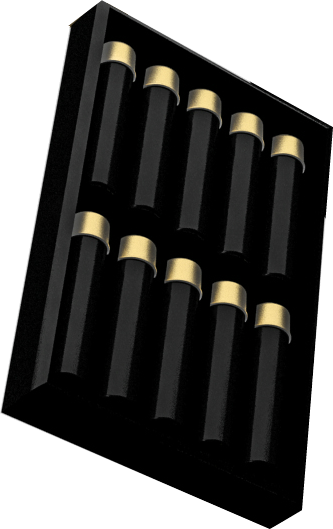 10 day trail 24K COLLOIDAL GOLD

Our 24K Colloidal Gold trail pack comes in convenient 10ml shots, to be taken daily.
Receive your 24k Colloidal Gold shots inside a highly resistant classy black & Gold Box that personifies your thriving ambition.. #staygold.
10 days of 24k colloidal gold
Our 24K Colloidal Gold comes in convenient 10ml matte black anti-UV glass shots to give you the best start to a new and improved mind.
...AND THE BODY WILL FOLLOW.
Wake up... Wake up... At the start of what you planned to be a day of achievements, your mind offers its first sign of resistance. There you are, tied to your bed, until you finally feel bad for having laid there, two hours later than intended. Oh... the birth of inconsistency.
During your sleep, you dreamt of success... But in the world of the living, you feel numb.You attempt to regain track of your goals, try to stick to the rough road, but the more you do it, the more your flame shrinks... And what you meant to complete two years earlier, is now two years delayed, yet again.
That's why the 24k Colloidal Gold Exists.To keep you pouncing, like a leopard, until your prey is under your grasp.
Ensuring you finish what you set out to do in the most natural way possible - through a mixology of earthly ingredients that combined empower your mind and body to seize the day like a successful person would.
GAIN A SHARPSHOOTER'S FOCUS AND CONCENTRATION POWER




UNLOCK MENTAL CLARITY LIKE AN EXPERIENCED YOGI




ENHANCE YOUR ABILITY TO MEMORISE INFORMATION





FEEL 100% ENERGISED AFTER A DEEP, DEEP SLUMBER




BECOME A WELL OF MOTIVATION AND INCESSANT HUSTLE
It is our choices... that show what we truly are, far more than our abilities.

We use double steam distilled Fluoride-free water in our Colloidal Gold Potion because it helps create the perfect balance which allows the nanoparticles of gold to interact effectively with the human body, by keeping out any impurity derived from bottled or tap water.
24K Gold Nanoparticles are the crucial ingredient from where cognitive improvements are born. The development of mental sharpness, decrease in mental fatigue and even enhanced memory are just three of the great benefits in the list that allow you to rise above any challenge.





INCLUDING TRACE AMOUNTS OF
Containing over 80 essential minerals, the Himalayan Sea Salt helps your Brain remove the acidity from its cells, which in turn adjusts the pH levels in your body. A balanced pH is important for the brain to function ideally, given how 80% of the brain is water.
Cinnamon although often overlooked, It has positive effects on your body.Adding Cinnamon to your life can help improve your sugar levels, and even aid in lowering cholesterol levels.
Silver has been claimed to aid in curing a number of different conditions, as well as having beneficial effects on the body. In fact, there are at least 8 beneficial factors that were found by research. Among them are anti-inflammatory and skin care properties.

TRY IT RISK FREE FOR
30 DAYS
We know some things take time.
We give you 30 days to genuinely feel how our 24k Gold Potion works.
If you don't like it, just send it back and we'll happily return you your money.

For more information, please see our Refund Policy.
NO Fakes here.
We like to keep it real, just like our 24K Gold. #StayGold
CHANGE BEGINS IN THE MIND.
Set your goals high, and don't stop til you get there.
Whether you've been struggling to maintain your consistency toward your goals or you've been having trouble finding the stability found through a calm mind...
24K Colloidal Gold Potion can help you out.

Join us by using hashtag #astralgains #staygold